Girl Trouble official web page
Girl Trouble is currently celebrating 30 years in the entertainment industry. Help us...please, help us...celebrate!

DROP DOWN TO MAKE A SELECTION OR BUY STUFF!

The new 2-disc BluRay is ready for pre-order. Click here for info!


CHECK OUT ONE OF THE COOL VIDEOS FROM OUR SHOW IN SPAIN LAST YEAR!


BIG GIRL TROUBLE NEWS: The Hit It or Quit It album re-release is now available on K Records!
Click on the album for everything you'll need to order from K!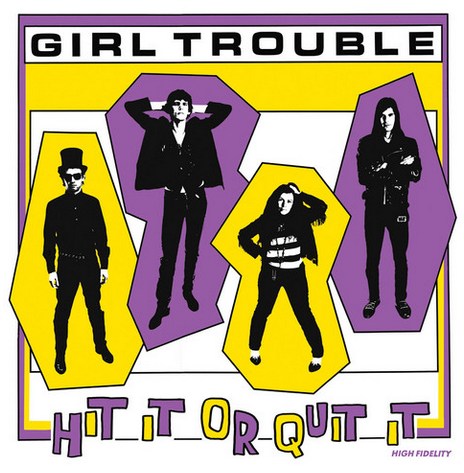 PROUD MEMBERS OF...
THE AXIS OF ENTERTAINMENT
Girl Trouble - Est. 1984

Greetings Earthlings and welcome to our high tech world of the future. We are the low-tech rock and roll band Girl Trouble. Our idea of an adventure in modern technology is to turn on the TV and change the channel to Streets of San Francisco re-runs using a remote control. So why would dorks like us be having one of these web/home page deals? Because somebody told us it was a good idea and we pretty much do anything that somebody tells us. Feel free to enter our world...Thank-you.
FOR FASTER UPDATES:
FACEBOOK IS THE WAY TO GO! JOIN US for all the latest in the Girl Trouble World. We sincerely hope you'll LIKE us.

We still have a MYSPACE site but as you probably noticed, Myspace is just about dead.

And if you'd like to hear samples of what we've recorded, CHECK THIS OUT!
Please Make Your Selection Now

Strictly Sacred: The Soundtrack



The Tacoma showings of Strictly Sacred
could not have gone better. We want to
thank everybody who showed up at the
two sold-out screenings at the
Grand Theater on June 29 - 30th. Thanks also
to the Seattle Internation Film Festival
and all the people that supported our documentary
at those screenings in Seattle. We'll be showing
this as long as people want to see it.

For UPDATES on Strictly Sacred just like
the special facebook page.

STRICTLY SACRED FACEBOOK PAGE

Strictly Sacred: The Soundtrack

Strictly Sacred won't be on DVD for a little while longer, but here is the next best thing! This film soundtrack includes all your favorite Girl Trouble tracks, plus rare items and audio relics not included in the documentary. Clocking in at 79 minutes, spanning 40 tracks, and including an informational 24 page booklet.

TRACK LIST

1 Ride With Us
2 Start That Attraction
3 When Opposites Attract
4 Teen Time Roll Call
5 Simulator (live)
6 Buddy Love Unfiltered
7 A Cold Sounding Place
8 Old Time Religion
9 David Duet PSA
10 Aunt Mabel Cried the Day That Elvis Died
11 Follow Me Down
12 Neko Loves Rock and Roll
13 Asking For Trouble
14 Work That Crowd
15 Bo's Bounce
16 Wash your face a lot
17 Cold Shoulder
18 Kurt's Answering Machine Part 1
19 Louie Louie (live at the Tropicana)
20 Shopper Chopper
21 A Brand New Tacoma
22 My Hometown
23 Nardwuar VS Girl Trouble
24 Viva Tacoma
25 You Should Be In Bed
26 Scorpio 9 (meltdown version)
27 Storm Warning
28 The Boneyard Sessions
29 Steppin' Out
30 Swingin' And Surfin'
31 Batman (Fisk version)
32 Sax and Keys Duet
33 Tarantula (live)
34 Elvis Presley Medley
35 Guerilla Acoustics
36 I'm Gonna Use These To Feed Our Babies
37 This Thing Called Love (live)
38 Kurt's Answering Machine Part 2
39 To Tame a Woman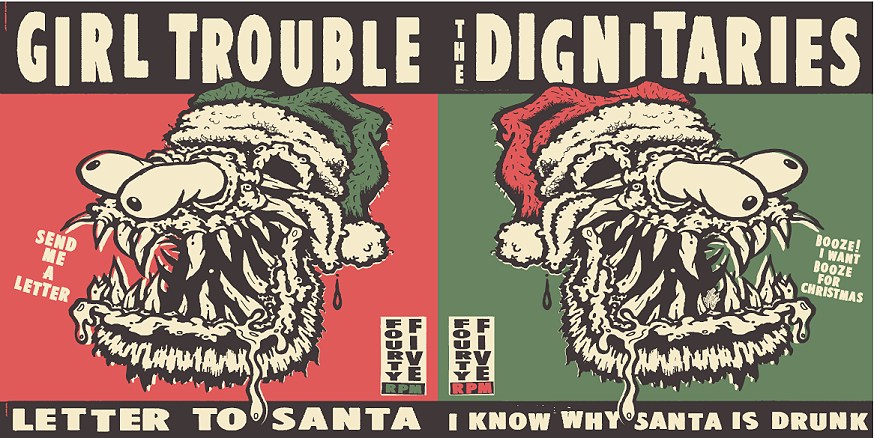 Get the new split 45 RPM split single from Girl Trouble and The Dignitaries. It's a sure-fire way to brighten any holiday gathering!
YouTube video from the Hit It or Quit It Re-release show: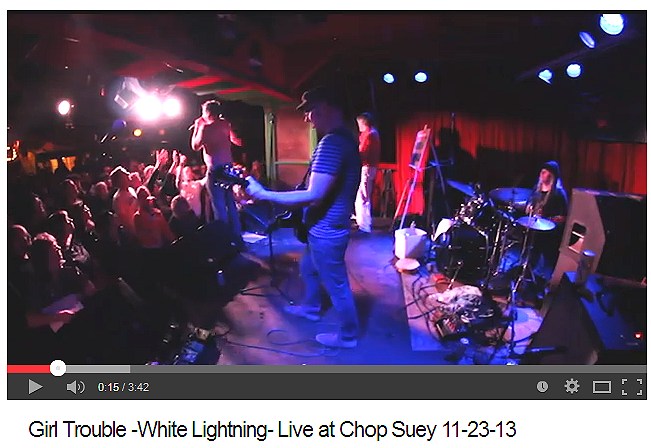 Girl Trouble
Fans of the Week
See all our amazing Kickstarter donors here!
Strictly Sacred: a film about Girl Trouble is coming to Seattle International Film Festival!
And this isn't one of our jokes! Check back for specifics.

Over a year in the making, filmmaker Isaac Olsen, went through every box of paper, looked at every old video, interviewed as many people as possible to get this story. Thirty years of Girl Trouble, the town they love, the friends they've made.

It's all there.

Click on the poster link to find out the info on Facebook or click on the YouTube photo to watch the trailer.

THE RULING IS IN! GORILLA PRODUCTIONS VS. GIRL TROUBLE - Judge rules in our favor!

The official ruling:

11/22/2011: THIS CAUSE CAME ON FOR CONSIDERATION UPON DEFENDANTS' MOTION TO DISMISS PLAINTIFF'S COMPLAINT FOR LACK OF PERSONAL JURISDICTION. BASED ON THE EVIDENCE BEFORE THE COURT, AND VIEWING THAT EVIDENCE AND PLAINTIFF'S ALLEGATIONS IN THE LIGHT MOST FAVORABLE TO THE PLAINTIFF, THE COURT FINDS THAT PLAINTIFF HAS FAILED TO ESTABLISH THE EXISTENCE OF JURISDICTION OVER ANY OF THE DEFENDANTS, AND THAT GOOD CAUSE EXISTS FOR THE GRANTING OF DEFENDANTS' MOTION TO DISMISS. IT IS THEREFORE ORDERED, ADJUDGED, AND DECREED THAT PLAINTIFF'S COMPLAINT AND FIRST AMENDED COMPLAINT BE DISMISSED FOR LACK OF PERSONAL JURISDICTION. JUDGMENT ACCORDINGLY. IT IS SO ORDERED. COURT COST ASSESSED TO THE PLAINTIFF(S). NOTICE ISSUED
WE ARE ALERTING ALL BANDS/MUSICIANS: STAY AWAY FROM "PAY-TO-PLAY (aka pre-sale shows).
If you hand over money before you get on stage, whether it's in pre-sold tickets or direct cash, YOU ARE PAYING TO PLAY. This is not the way to play shows. For more information please see Bon's website, detailing what pay-to-play is and listing companies that expect bands/musicians to sell tickets.
These fantastic posters were created by Jerry Clayworth. CHECK OUT ATOMICJUKEBOX.COM FOR ALL YOUR POSTER/ART NEEDS!
STILL MISSING SCOTT BURROUGHS AND PAT BOSTWICK...WE'LL ALWAYS LOVE YOU GUYS!
WHEN SCOTT SMILED LIKE THAT, THE FUN WAS JUST ABOUT TO BEGIN!


Patrick E. Bostwick 1963 - 2008

PAT WAS THE HIPPEST GUY IN THE ROOM
Thanks for everything, J.P.!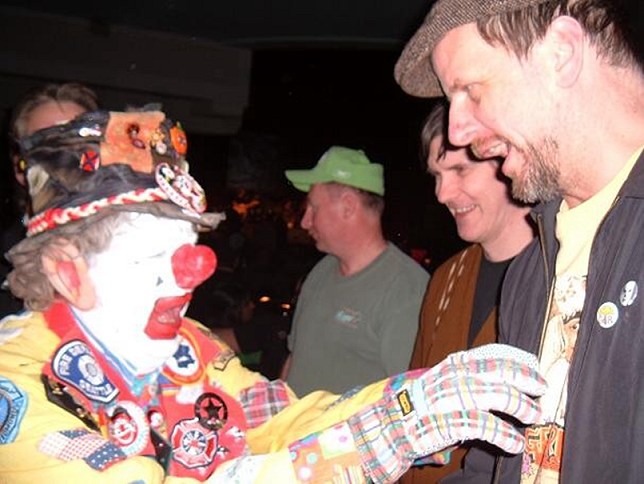 J.P. Patches attacks K.P. Kendall's Gertrude shirt as Dale Phillips looks on.
Independent film company, Schnelluloid is owned by Isaac Olsen. He and K.P. Kendall have finished feature-length movie, Quiet Shoes. Starring Dale Phillips, this is the story of down on his luck detective Rick Savage and his exciting adventures.

"So tiptoe into danger down dark alleyways, seedy waterfronts and a deserted farmhouse and be as quiet as possible, for if Rick isn't careful, it could be a toe-tag he's sporting rather than those sleek new shoes he spotted at the beginning of our film..."

DOWNLOAD THESE GROOVY GIRL TROUBLE TUNES
DON'T FORGET TO CLICK HERE for fascinating trivia on each of these songs...
MOHAIR SAM


FIND OUT WHAT'S HAPPENIN'

BABY, THE RAIN
MUST FALL

I'LL MAKE YOU SORRY
WATCH THE ORIGINAL MOVIE TRAILER!
PARTIAL IMPACT II,
THE MUTATION
An ISAMAR Studios Production
Starring Girl Trouble, Jim, Ed and Sam
GIRL TROUBLE
20th
ANNIVERSARY
REPORT

Here's just a sample of the excitement that was the big Girl Trouble 20th Anniversary Show at the Crocodile Cafe in Seattle, 2004. Check out the full story and mega photos commemorating Girl Trouble's 20 years in the entertainment industry!
SEE IT ALL HERE!
Freddie and the Dreamers:

Anyone connected with this website has followed the entries of "Dreamer of the Month" and instructions on how to do "The Freddie". Girl Trouble salutes one of the most exciting British Invasion Bands ever to grace our shores.

Swedish Dansbands:

Formerly located on the second "Don't Touch" button, the information supplied by Karl Zwick and Stefan Ahlstrom (who actually saw some of these bands) was just too cool not to share with the world! See the most fantastic band outfits ever created!

7 Wonders of Tacoma and Beyond:

Over the years we've reported on many of the happenings of Tacoma Landmarks. Even though the crappy Tacoma paper changed all the news we were linked to, we will attempt to keep you up-to-date on what's hot and what's not.

Read All About It:

Need to read even more about Girl Trouble? Are you kidding? This page will take you to links and/or reviews that you might find entertaining. These links are beyond our control but we'll try to keep them as current as possible.

Psychic Playtime formerly ISAMAR:

If you enjoyed the Partial Impact II, The Mutation trailer you are sure to find this page fascinating. Brilliant film maker Isaac Olsen let's you in on his latest projects. He and KP Kendall are working on something special. Keep checking back.

The Freakouts: The only Tacoma band worth linking to (and they are related!) is 14 years old...and we are talking about their individual ages! They change their website more than anyone we've ever seen so check it often and ask for a demo (it rocks!). They broke up and Sam is in the amazing

Red Hex

.
WOW, THANKS NEKO! Girl Trouble wants to give a big shout-out to our long time, T-town pal (and former GT go-go girl) Neko Case for the awesome comments she made in the recent issue of HARP Magazine (Beck's on the cover). When Neko was asked to name musical acts that influenced her, Girl Trouble made the list of three (including legends Bessie Griffin and Her Gospel Pearls and the Flat Duo Jets). As you may know Neko's career is taking off like a rocket and we couldn't be happier...to ride her coattails to stardom! All kidding aside we are thrilled that everybody is finally figuring out what we knew all along...Neko is one rockin' chick! We recently saw her sold-out show in Seattle and she blew us and everybody away. It was a great night but also made us miss those days of hanging out in Kahuna's basement watching videos and dancing to the "Theme from Shaft". Oh the stories we could tell! To Girl Trouble, Neko will always be part of the family! Check out Neko's website and do yourself a favor and catch her show when she comes to your town.
MY-SPACE FUN!
THESE PEOPLE WANT FRIENDS...

THESE PEOPLE DON'T...

Who says Girl Trouble doesn't keep up with the latest techno crap that all the youngsters are diggin'? Go to MySpace and see the new site that our own Winston Barlow rigged up. Wanna be Girl Trouble's friend?
Sign up and above all:
PLAY NICE!

And while we are on the subject: Who are these four sinister looking weirdoes? Apparently they DON'T want to play nice and they only want each other as friends!
MYSTERY SUSPECT NUMBER ONE
MYSTERY SUSPECT NUMBER TWO
MYSTERY SUSPECT NUMBER THREE
MYSTERY SUSPECT NUMBER FOUR
Check out the guy in the middle of the photo with the white helmet. TACOMA IS STILL NUMBER ONE!

The shows are over, but damn, the posters were cool!
| | |
| --- | --- |
| Poster art by Jim Nadorozny | |
We had a blast! Friday, September 26th! At Slim's Last Chance! With RED HEX!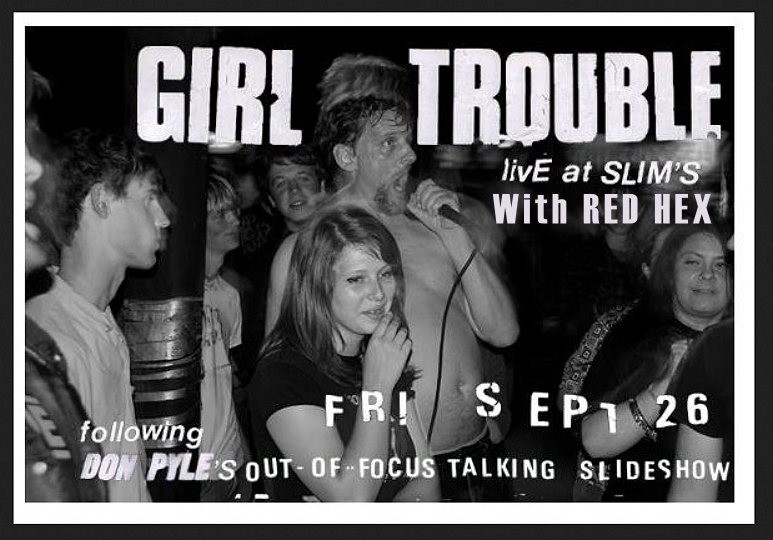 CHECK OUT THE WILL HENDERSON WWII SITE (It's the official GT Dad, and van mechanic!)
Also If you like records, you'll love Mr Ed's Music Roundup!
BON VON WHEELIE'S RINGO STARR CHALLENGE (from March 30, 2009)
Last October I heard a report on a cable news show that made me sit up and take notice. It was a video of my fave Beatle, Ringo Starr. Ringo was giving everybody an ultimatum. He would no longer be signing anything after October 20th. With "peace and love" he wouldn't even be reading the letters he'd get after that date! They would be tossed out. Whether it was Ringo's idea of an amusing viral video or a serious warning, I thought I'd better take him at his word.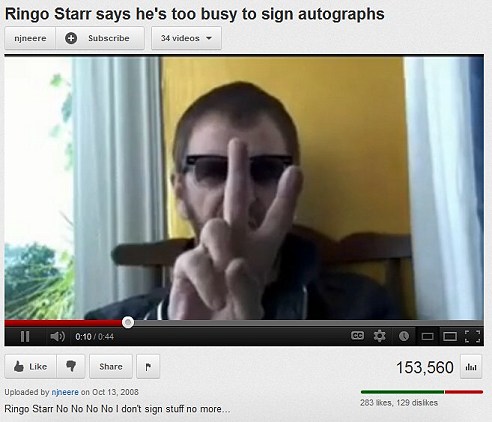 You see, when I was a teenager I and my friend actually wrote to Ringo. We had found his address in 16 Magazine and decided to ask him all sorts of important questions. We even pooled our money to buy a real British return stamp which was suggested by 16 Magazine as a way to get the big stars to write you back. So we sent our letter off to Liverpool, England and waited and waited and waited...

Upon seeing this video, my first thought was about our letter, and if I should finally give up hope of getting a response. I thought I had enough time to dash off a quick follow-up letter before the deadline. I looked on the internet and found what I thought looked like a legit address in California. At the same time, I figured "why not include another self-addresses stamped envelope?" As a final "what the hell" I put in an old Beatle card, one of my fave pix of Ringo, and asked if he'd sign it.

My letter read...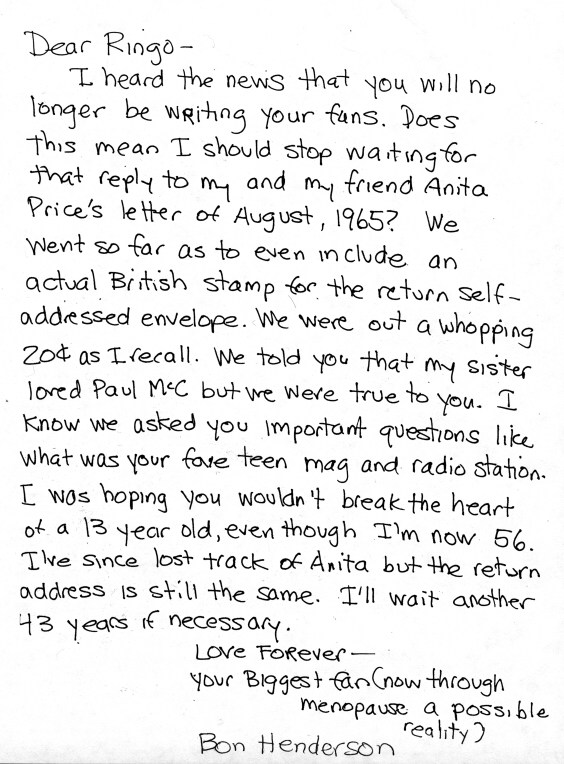 I was out in the shed getting my drums ready for a show when my folks told me I'd gotten something in the mail. At that home address I normally only get official government stuff and offers of car insurance, so I hardly gave it a thought. But Mr. Ed (boyfriend/G.T. assistant) brought out the envelope. It was my handwriting on the return envelope I'd enclosed. I opened it up and there was the little cardboard wrapping I'd put around my Ringo Starr Beatle card. Inside it was...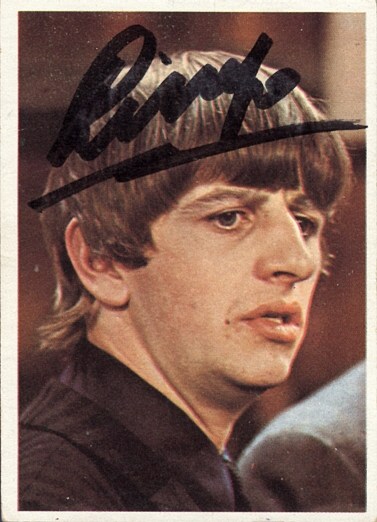 Thanks, Ringo! You are still fab!
SHOWS WE'VE DONE WITH ARTWORK WE STILL LIKE
TWO SHOWS IN JUNE...GONNA BE A BLAST! CLICK ON THE POSTER (both by Jim Nadorozny) FOR DETAILS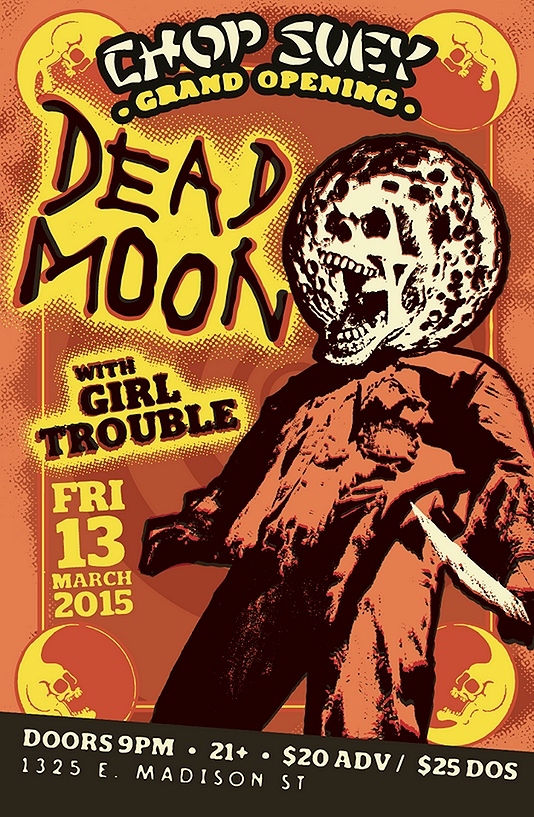 people have looked at this page since 5:00 PM yesterday. No...really.
This counter, for what's it's worth was re-started Dec. 03, when there was 14,481. I'm sure you are fascinated!