TACOMA LANDMARKS PAGE
THE SPANAWAY SPEEDWAY: The incredible Spanaway Speedway, which featured WAAD demolition derbies once every month has closed for 2005. Several years ago the track almost closed due to the fact that a housing development was planned there. A housing development is planned for every piece of "unused" land but that's another story. Unfortunately for the developers the ground was so soaked from 50 years of racing that it was not cost effective to remove that much topsoil. Several more seasons of racing went on before vandals snuck in last year and completely trashed the place. They claimed $100,000 worth of damage that was not insured. It was not worth the price to restore a facility that would soon be developed anyway. Girl Trouble and friends are heartbroken that there is one less really fun thing to look forward to in the summertime.
------------------------------------------------------
NEVER NEVER LAND, POINT DeFIANCE PARK: Another one of the "7 wonders of Tacoma" GONE?: Since the News Tribune decided to cancel all the archives section of their precious paper (you have to pay for articles) we will give you the abridged version. Never Never Land sat inside Pt. Defiance Park. It was a walk-through attraction featuring small Nursery Rhyme buildings and plexiglas figures. It ran from the late 60s into the 80s. You had to pay to enter and it was all fenced off. The attraction got run down so the park closed it and let all the vandals and college kids have the run of the place. They stole stuff, they spray painted stuff, they broke stuff, they sat on Miss Muffet's tuffet. The rats! So the park department was going to dismantle it. They tore down the fences and let everybody see it for free. People flipped to learn that they were going to destroy what was left. The Park may have had a change of heart. Now that it is open to everyone (instead of closed off which was a perfect hiding spot for vandals, etc) the area is packed with families. Hopefully they'll figure it out but if not, we will soon share some of the photos we took there.

--------------------------------------------------------
ALL GONE:
5TH OF THE 7 WONDERS OF TACOMA BITES THE DUST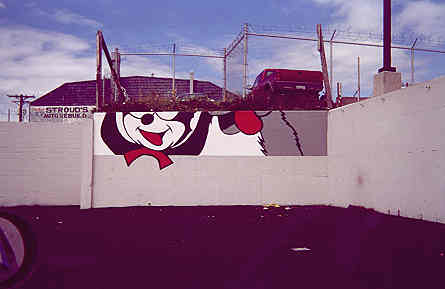 No, your eyes aren't deceiving you and this isn't a doctored-up photo. This is what Tacoma Dodge decided to do to one of the Seven Wonders of Tacoma after they took over the Felix and Wolf lot from Thompson Auto Sales. Bon flipped out and staged an e-mail campaign. Many faithful Wig Out readers e-mailed their displeasure at seeing this cherished landmark destroyed. And what was the outcome of this? Did Tacoma Dodge take the complaints to heart? Of course not! They ended up painting the whole thing grey. Now the bottom half is gone too. We HATE Tacoma Dodge. They have no respect for REAL TACOMA LANDMARKS. If Tacoma Karma really does exsist this place should go belly up soon. But until then as far as we're concerned they can take those new Neons and shove them straight up their own .... well, you get out drift. If you'd like to read the whole agrivating story (complete with photos) click on the Felix and Wolf button.
So now we're down one Wonder. In the coming months we will be conducting a search for a new Wonder to replace this one. Any suggestions are welcome. Once we post the nominations we will ask for our devoted readers to vote on their favorite. Check this page for updates.
THE FELIX AND WOLF SIGN CONTROVERSY
(Summer, 2000)...
A definite disturbance in the force of T-town has occurred the past week that you should all be aware of. One of the famous Wig Out "Seven Wonders of Tacoma" has been half destroyed. Bon is starting an e-mail campaign, even though it's may be too late. At least it will hip the new owners to what a stupid and anti-Tacoma like deed they have done.

The Wonder in jeopardy is Number 5 - The Felix and Wolf sign on South Tacoma Way. It's that big sign of Felix the Cat and his friend Wolf whose eyes lit up the amazing South Tacoma strip in the 60s. Green or blue lights were Felix's eyes and red lights were Wolf's. This was the location of the Felix and Wolf car dealership until sometime in the 80s. However the sign stayed running even with different owners until Tacoma Dodge took over the lot and decided that nobody really cared about an old sign.
Not care! This sign is a Tacoma Landmark as important as the Java Jive or B & I. Parents would drive their kids by this sign as a cheap source of entertainment. And kids did love it. Felix and Wolf knew how to sell cars. Put up an amazing eye catching sign that kids would force their folks to drive by. There wasn't a person in Tacoma who didn't know where the Felix and Wolf car lot was!
Tacoma is in the process of losing it's character. Strip malls, Walgreens, Rite Aids, Home Depots, and generic fast food buildings have taken over the area. Surprisingly, the Seven Wonders of Tacoma have not been touched (okay tampered with maybe, but still holding on) until this recent development. The sign itself was painted in two halves. The bottom half was cement wall and the top half was a wood sign. The Tacoma Dodge people have removed the top half of the sign. It appears they will paint over the bottom half.
If anybody out there is as bugged as we are about this insensitive action feel free to write your complaints to:
beaker490@aol.com
or hook up on the Tacoma Dodge web page.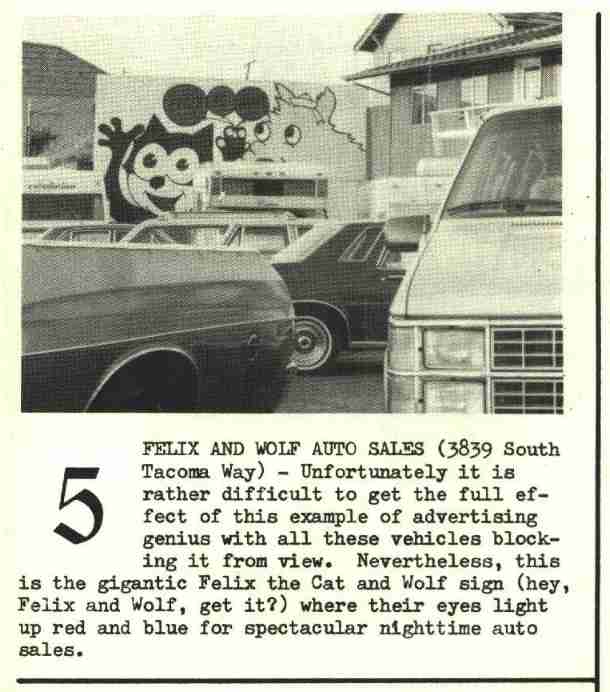 Wig Out No 12 (August, 87): "The Seven Wonders of Tacoma" article is featured and Felix and Wolf comes in at Number 5 (but really they were in no particular order). This article was one of the most popular in Wig Out history. People from out of town would come to T-Town to do the "Seven Wonders" tour. It prompted other publications to do Seven Wonders of their towns.
--------------------------------------------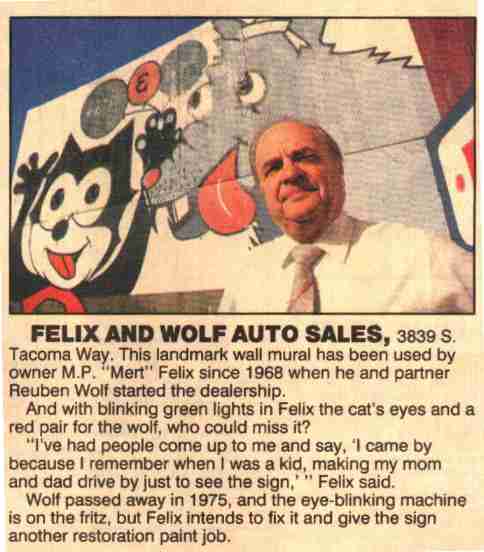 The Olympian, Lifestyles (April, 92): Reporter Brian Rainville picked up on the story and did his own incredible (and much better) job of going over the Seven Wonders. Patrick Neary took the fantastic color photo of Mr. Felix and the beloved sign. However this is where a slight discrepancy occurs. The article says it was up since 1968 but everyone who was a kid in 1960 remembers it vividly. Could it have been 1958? That sounds more correct to many people we've polled. This is the mystery.
-----------------------------------------------------------------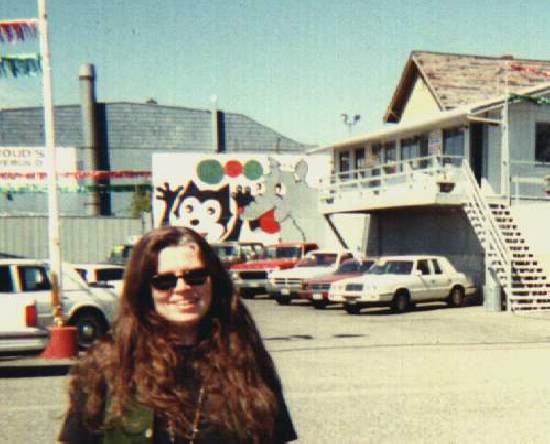 1998: Bon's boyfriend Ed snapped this shot of Bon and the still-great sign from across the street. By this time the lot was owned by Thompson Auto Sales who obviously knew the value of owning a great piece of sign art and a Tacoma Landmark. Too bad the same couldn't be said for the new owners!