YOU'VE ENTERED THE NORTHWEST GALLERY...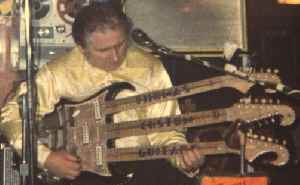 HARVEY THOMAS
NORTHWEST'S GREATEST GUITAR MAKER
The undisputed most fabulous guitar maker in the history of the Northwest was a maniac out in a place called Midway -- Harvey Thomas. Unfortunately Harvey is gone now, but his legend continues to grow. Girl Trouble producer, Tim Olsen, had the incredible honor to first learn guitar making from Harvey, and later worked for him. Bon actually was lucky enough to meet Harvey and still talks about his place with every different model and year of Cadillac sinking into the swamp and being taken over by the birch trees.

...GET ALL THE DETAILS ON TIM'S NEW HARVEY THOMAS WEBSITE with photos and stories from fans and friends.
----------------------------------------------------------------------------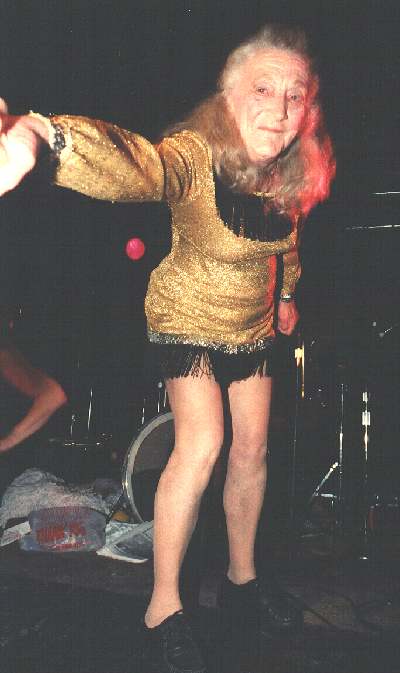 GRANNY GO-GO
(1910 - 1996)
GO DOWN DANCING
Here are the several stories Wig Out ran on beloved Tacoma icon, Granny Go-Go. Girl Trouble was lucky enough to work with Granny for several years before her death in 1996. The Girl Trouble single "Work That Crowd" was written about Granny and featured Granny relating stories of her dance career. We've decided to reprint these articles, word for word, the way they appeared in the issues. The first article is the story of her life and the last details a lot of the things we couldn't tell you for fear of catching hell from Granny herself. Several of the photos you can bring up are from Granny's own personal collection and others have never before been printed. Here's your Table of Contents:
The Story of Granny Go-Go by K.P. Kendall from Wig Out! #19 (January, 1992)
The Real Story Of Granny Go-Go by Bon Von Wheelie from Wig Out #24 (October, 1997)