Mr. Winston Barlow is known by many as the editor of Wig Out! magazine and author of the popular Tacoma gossip column, "What's Happening, Baby?" He's been in with the in-crowd for longer than he cares to admit covering many of the local trends in the Northwest music scene. Mr. Barlow's exciting liner notes graced the back of the first Girl Trouble album, "Hit It or Quit It." We are happy to have him on-board for all those web scenesters in need of his shot from the hip quips.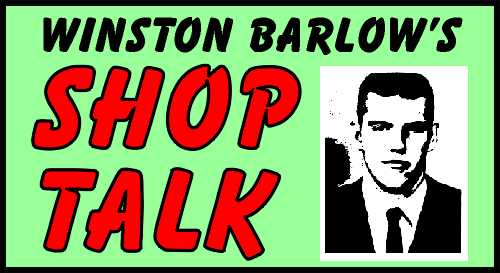 APPARENTLY "THE SHOP" WAS CLOSED IN 2004. WE'LL LOOK FOR WINSTON IN 2005.
Check out this work of art!
October's Girl Trouble scooter club extravaganza couldn't have gone better! To top off an exciting night of fun, GT supporter and burlesque dancer Tawnya Mendonsa presented Girl Trouble with their very own Jack-O-Lantern. Yes, that's the official Girl Trouble logo skillfully carved right into the pumpkin! Tawnya did a fantastic job and everyone marveled at how awesome it looked all lit up. Tawnya instructed us to create an easier logo next time. Thanks Tawnya, will do!
Dateline: January, 2004
Are they playing...aren't they playing? It's too tough to call these days. I will be getting around to doing a little Girl Trouble overview of this wild year including a few photos. Check back with me soon. Meanwhile, I'm hitching the sled dogs and sledding over to the grocery store for some batteries, Doritos and Pepsi. Mush!
Dateline: October, 2003
Old Winston is really dropping the ball on this column, huh? Well, I got elected the Illusion of Excitement publicity head and now I'm sending out ad copy to all the major newspapers and cable news programs. Larry King promised me that Girl Trouble would be featured next week on his show. That was about three weeks ago and I'm still waiting for him to return my calls. I get the feeling he's starting to get cold feet about the whole thing. Same deal with Oprah. What is it with these people? Well no matter, there's still that guest shot the band did on Conan O'Brien and I think I can speak for everyone when I say that Girl Trouble really did Tacoma proud that night. The pinwheel of fame is spinning out of control for the GT crew and I for one couldn't be happier about the whole thing. So if it seems that I haven't been keeping up with this column, remember that getting Girl Trouble on the Tonight Show is probably just a little bit more important at the moment. But after we shoot that spot for TRL I'll be back to the old grind and keep you up to date on all the hip happenings. I'm counting the days...
Dateline: August, 2003
I thought you might like to see what a real dead webpage looks like. It's almost like going into an abandoned mineshaft. The only thing left are the flashpots to guide you through this dark pit of nothing, oh yeah, and the banner proclaiming that these guys are the Northwest's greatest rock band. Aaahhhhh...they must have fell down the mineshaft of rock because obviously no one has been there in years. Actually this is the band that stole the name "New American Shame" from GT and then claimed they made it up. Of course they broke up but not before they also called their album New American Shame. Tisk tisk.

Dateline: July, 2003
If a picture is worth a thousand words, then here's a couple thousand for ya. These came from the big Girl Trouble San Francisco jaunt where GT played two shows at the Parkside, during the Gearhead Magazine 10th Anniversary Bash. More on all the fun and excitement coming soon but until then we wanted to share a couple of photos with you. Stay away from those dangerous illegal fireworks and see ya with all your fingers at the Swiss July 12th!
The last night of the Gearhead Fest

That's the big GT/GF (Gas Huffer for the uninformed!) summit meeting at the Parkside: A very happy Gearhead's Mike LaVella is front and center with Bon Von Wheelie. Gathered from left to right is Matt Wright, Don Blackstone, and Kahuna. Way in back we see an excited Joe Newton preceeded by an even more excited Tom Price, with K.P. Kendall and Dale Phillips rounding out this incredible troup of entertainers. The whole event was a blast that will not be forgotten.
Girl Trouble plays the Palace!

Okay, so they didn't exactly play The Palace, but they did get their picture taken in front of the famous San Francisco landmark, The Palace of Fine Arts. Girl Trouble was wined and dined by their good pals John and Melissa O'Neil during their stay in San Francisco. John is the one who took this photo. More S.F. photos (so you can actually see pictures of somebody other than Girl Trouble) coming soon!
Dateline: June, 2003
I'm working on more pix and scoops for you. Check back with me in a week. Right now I only have four words to leave you with..."From Justin to Kelly". Wow!!!! See ya soon. -W.
LADIES AND GENTLEMEN...THE TROUBLETTES!
(AT THE GARAGE) L to R: Dolly, Coco, Bunny and Gigi. (AT THE SHOW) L to R: Dolly, Bunny, Coco and Gigi.
| | |
| --- | --- |
| The Troublettes practice before the big First Night show. For more action shots check out the OLD SHOP TALK link. | |
-----------------------------------------------------------------------------------
| | |
| --- | --- |
| There's no way we can escape the charms of the one and only Rockin' Rod. Here we are on his super-groovy radio show "Brains Knocked Out". That's engineer Kurt Flansburg pretending to interview Kahuna while a enthralled Bon, K.P. and Dale gather around a slightly bemused Rockin' Rod. This photo is suitable for framing. | |
-----------------------------------------------------------

| | |
| --- | --- |
| | No matter how many snotty, untrue warnings we get from the wrestlers we will always have room in our heart for Sloth (or "Superboy", as K.P. Kendall refers to him). They don't use him enough in our opinion. The guy is a total fan favorite. People go nuts when he shows up. He's got style, he passes out Baby Ruth candy bars to the kids (take it from us, that works!), his folks come to watch him wrestle (how can you beat that!) and has his own catch phrase, "Hey you guys!". This guy should be the local superstar and yet they don't seem to give him a very prominent slot. Maybe they should worry less about their precious bandwidth and start thinking more about who's the most exciting wrestler. Here's Sloth with K.P. Kendall and Deirdre Reinert (aka Troublette Bunny) from last year. As long as Sloth wrestles, we'll be there! |
We are moving parts of this fascinating page to other places so check around.
MISSING YOU PAGE is for tributes to our dear friends Reid Diamond and Nick Von Robison
OLD SHOP TALK PAGE will take you to all the "Shop Talk" articles our own Mr. Barlow has submitted through the years.
--------------------------------------------------------------------------
However, these sections are too important to move
Don't forget you can still check out a web page that knocked my socks off by hooking up to Sam Carlson's Northwest band page. Talk about comprehensive! It's amazing. If you're looking for Northwest band info - This is da place!
Troublette Bunny, (aka Deirdre Reinert) still has her web page going full blast. Check it out!
Always amazing is the Trashcompactor site for all your cool band and wild website needs.
I'm still loving the Defunct Amusement Park web page and the Chippewa Lake Park in Ohio has still got them all beat by a mile. Too bad about the latest ballroom fire.
After that don't forget to take a trip to some of the biggest defuntness in the world, the Yesterland web site where you can still view some of the amazing attractions that Disneyland deemed too "old school" for us. If that Adventures thru Inner-Space ride was still there it would be on the top of everyone's list! Have a blast in the good old days when Political Correctness didn't rule every aspect of our lives!
That Gorillaz web page is still a masterpiece. It's constantly changing. I don't know what the hell is going on half of the time but I sure like it!
And while I'm on the subject I was planning to link you up to the Gearhead page through the discography section but why don't I just do you the favor and let you see that now too. Tell Mike LaVella we say hi.
BUMBERSHOOT 2000. And we certainly don't want to remove these great pix from our main "Shop Talk" page. These are two photos of the oh-so-charming Girl Trouble go-go dance team. That's Sugar, Coco, Bunny and Lucky. Ask anybody who attended that show: They were the showstoppers that day!
TROPICANA 15 YEAR REUNION. Then, of course, we couldn't move this too far away. Here's the crowd from the exciting reunion of luminaries held at the old Tropicana Club in Olympia, Washington. Looking at these faces should explain a lot!
---