...AND HERE'S SOME REAL CD REVIEWS THAT GIRL TROUBLE DIDN'T EVEN MAKE-UP!
There was a lot of praise for "New American Shame" which came out a few years ago on Empty Records. This is every bit as good, tune wise, and the production is even better. The band has a subtle country flavor infused in their rabid brand of rock and roll. The best band I can think of, by way of comparision, is the Cramps, but Girl Trouble have their own, highly individual groove going on. There is a unifying grace the band achieves through a solid bass line, simple yet effective guitar riffing and a steady back beat. Nothing real flashy; but tight, complementary and rhythmic with an ever present, slightly syncopated drum pulse that anchors each song. KP's voice is part Lux Interior and part Johnny Cash with a smidgeon of Bryan Ferry thrown in. The songs are clever and memorable stories of life, love and loneliness in the Pacific Northwest and on the road. Another fine realease from a great garage rock and roll machine.
-P. Edwin Letcher, FLIPSIDE
After 15 years of high-test garage shows, and vie years after the group's last recording, Tacoma's own masters of fun-time three-chord pwoer finally have another record out, even if the members did have to release it themselves. It's loud, it's fast, it's smart-alecky, it's smart, it's their best ever. My fave part's singer K.P. Kendall's sax solo on "Strother Martin," but it's all great. Kendall's vocal snarls blend perfectly with Kahuna's guitar, Dale Phillip's bass, and Bon Von Wheelie's drums (the only girl in Girl Trouble's the stick-slammer). This disc firmly establishes Girl Trouble as the true successors to the T-Town hard-pop tradition of the Wailers and the Sonics. Get it. Now.
-Clark Humphrey, The Stranger
It has been a LONG time since Girl Trouble's last full-length release, yet they don't call themselves the "Slowest Working Band in Show Business" for nothing. Needless to say this thirteen-track blast of NW rock n' roll has been well worth the wait. Their last Estrus 7" was a good indication of their current sound, as both tracks have been included here ("The Track" and "Scorpio 9"). It was great to hear so many of my live favorites on here. They have been together for nearly 20 years now, truly earning them the status of NW ROCK N' ROLL LEGENDS. If you haven't heard 'em yet (you should be ashamed) go grab this right away. Then catch 'em live if they come through your area, for pure entertainment this Tacoma four-piece delivers like no other combo can.
-The Continental
JUST THE FACTS, MAA'M.
And for those of you who just like the straight poop, here's a rundown of some of the things you might like to know:
TITLE: Tuesdays, Thursdays and Sundays
LABEL: Wig Out Records
CONCEPT: We still practice three days a week in the shed we've been in for fourteen years. Much GT history, song writing, and bitching has gone on there but mainly a vast accumulation of crap has built up in that time. Besides holding the title as the "slowest working band in showbiz", we now also have the reputation as "The band that never throws anything away". The cover art on this album reflects this commitment to slobbishness. Photos were mostly taken over 14 years of cleaning up and messing up.
OLD SHED PHOTO: Yes, that's really a picture of Kahuna and Bon's Grandfather walking around the end of what is now the GT practice shed in 1939. He was a musical guy who sang in the church choir, barbershop quartet and played French horn. A druggist by profession, an arborist by hobby, we never got to meet him but we bet we would have liked him.
SONGS: For the first time Girl Trouble releases a full length album comprised entirely of original material.
SONG TITLES: Go Metropolitan, Live With No Tomorrow, Intoxicating Criminal Diecast Cool, There's A Waste, Strother Martin, Cross-County Curfew, Princess Phone, The Track, Louisianappeal, Common Law Loners, Don't Ask Me, Scorpio 9, Mr. Thackeray's Day Off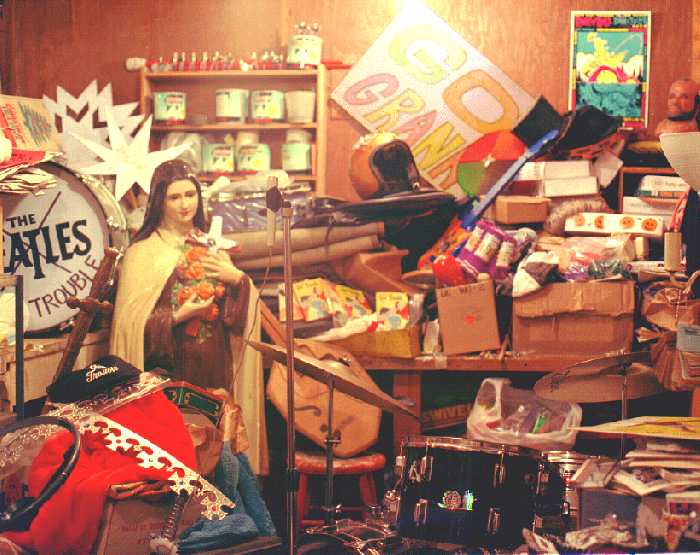 Now here's some fun if you've got nothing better to do, but really don't you have anything better to do than this? Here is the original photo on the front of the new Girl Trouble LP/CD. Maybe it looks like a big mess to you (okay, you're right on that one) but it also contains historical props from the many years, gigs and collections of Girl Trouble. Simply move those little clickers around on the photo. When you see a hand come up click away and find out what the item is and get the scoop on each one. The only hint we'll give is that there are 22 items to find.
Return to GT Home.