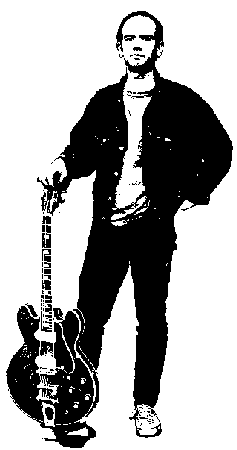 Here's Kahuna. It's hard not to spot the dynamic Kahuna on stage. His intense guitar assault has thrilled audiences all over the world for the last thirteen years. He's played a Quija board guitar he made in high school shop class, Fenders, Mosrites, and Gretches. At the moment a flashy red Gibson 330 is the instrument you're bound to be listening to. He collects them all. Kahuna is also a G.I. Joe collector and often combines forces with Dale's army for a truly impressive display of action figure fire power. An avid sci-fi enthusiast, Kahuna actually got to meet the stars of his favorite movie, Vic Lundin and Paul Mantee from "Robinson Crusoe on Mars''. Smoking butts with Paul Mantee outside the San Diego convention center was a huge thrill for him. By day Kahuna is still the swinging jeweler but don't ask him to fix yours. He owns a ride-engineered Mercury Monarch (that he's just about ready to give to some demolition derby driver who will smash it to pieces) and a cat named Link. Kahuna is also responsible for most of the Girl Trouble logos including T-shirt designs. When the rest of the Girl Trouble members want to relax they usually head over to Kahuna's for beer and a special viewing of "Hell Up In Harlem". Kahuna loves Blur more than life itself.
| | |
| --- | --- |
| | If you see somebody bombing around T-town on a scooter, chances are it's Kahuna. He finally found the TRUE love of his life: a Vespa Rally 200. Here he is in front of his little party shack contemplating how cool it will be to drive up to the Java Jive on this baby. We're sure he'll be using this space for more exciting info on his new hobby (aka OBSESSION). |
Return to GT Who's Who page.